(Free with General Admission)
It's one thing to bring in a big exhibit from the outside. It's another to build one completely from the ground up. But, that's exactly what we've done. Flight is an exhibit on the scale of Body Worlds or Dead Sea Scrolls but this time, it's a Utah original. In short, you've never seen anything like this before.
About The Exhibit
Flight is a completely immersive experience into the world and ecosystem of flight.  The exhibit will feature several interactive components and displays, sure to dazzle and delight scientists of all ages. Visitors will be able to:
Climb in, on and around a massive C-131 aircraft that has been specially fitted to help visitors unlock the secrets and science behind manned flight.
Pilot one of two completely original flight simulators, made especially for the museum by Rockwell Collins. These simulators are the same ones that modern day pilots train in while they learn how to operate these vast vehicles.
Learn about the different types of flight including buoyant, ballistic, and aerodynamic.
See the animal flight world up close and personal and discover how studying birds led to the discovery of manned flight.
The future of flight, including long-term space exploration.
FLIGHT is more about the science, engineering and even art that make flying through the air possible. That means when you leave, you'll unlocked the secrets of flight for yourself and you'll come away with a new appreciation and understanding for how the flying world works.
THE LEONARDO CONNECTION
For much of his life, Leonardo da Vinci attempted to understand how things flew through the air. He studied birds early and often during his lifetime, trying to figure out what kept these creatures in the air. The story goes that Leonardo was studying the air and trying to ascertain exactly how the air flowed over the wings of the birds. To do this, he actually put wings into the water and watched how the current moved over the water, thus leading him to understand air current. He used this knowledge to build his own flying machine that, while it never actually flew, served as a first step into the discovery of manned flight.
EXHIBIT HIGHLIGHTS:
TUNNEL of DREAMS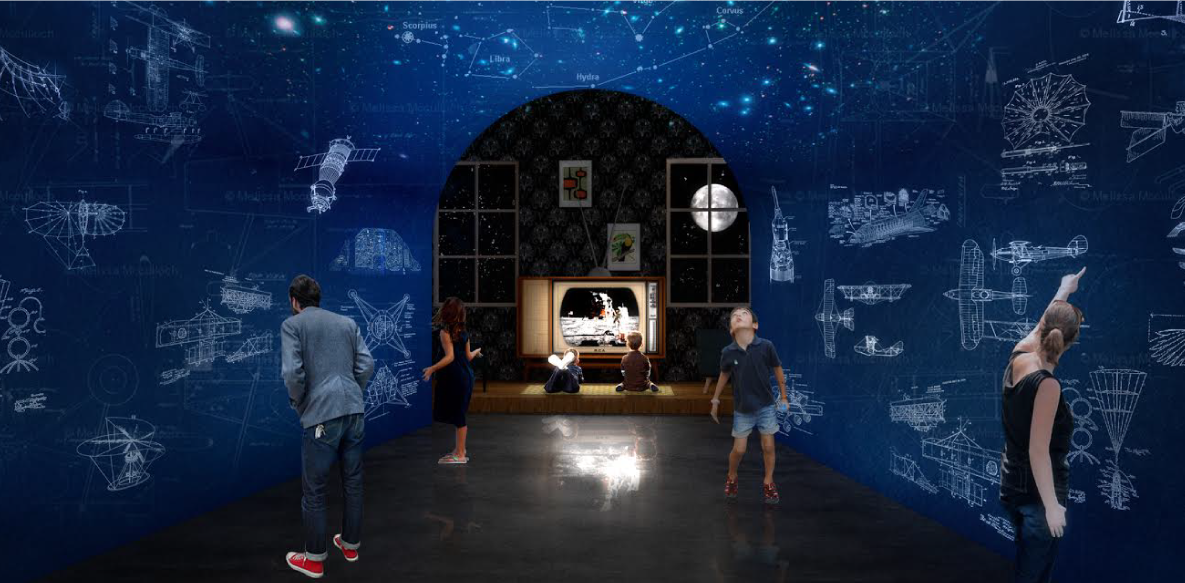 Experience The Tunnel of Dreams, and discover for yourself the wonder of FLIGHT that has captured the imagination of inventors, aviators and dreamers for centuries.  As you exit the tunnel of dreams, you'll be placed into an authentic replica of an American living room on the night of July 20, 1969 .  There, you'll watch again, or for the first time, the extraordinary moon landing, led by Neal Armstrong and Buzz Aldrin—an event that would spark the wonder of a generation of scientists.
C-131 AIRCRAFT
At the heart of the exhibit will be a fully restored C-131 aircraft which will sit in the center of the exhibit and clear the walls on either side of the gallery by a mere six inches.   Built in the mid-1950s as primarily a military aircraft, the C-131 has a history of service within the US Air Force, among its many jobs. This particular aircraft has flown military missions, carried generals across the continent and even served in some non-military capacity for a while. In short, it's had a long and varied history, but it will now serve as a vehicle for people everywhere to learn more about the science, engineering and art of flying through the air.
HYPER-REALISTIC FLIGHT SIMULATORS
Ever wanted to fly a plane? Of course! We all have. But at The Leonardo, you'll actually get to do it. We have two, completely unique, hyper-realistic flight simulators that will take you on a wild ride. Learn what to do to help an actual plane get off the ground, or come in for a super smooth landing. These flight simulators, built especially for this exhibit by Rockwell Collins, are the same style of flight simulators that most pilots train on. Truly, there is no better way to learn how to be a pilot then to step into a simulator and experience first-hand what a pilot feels like as they drive their craft into the air. It's a rush you won't soon forget.
Thanks to all our sponsors and partners:
Presenting Sponsor:
Major Sponsors:
Generous Support: